Hi Kathy!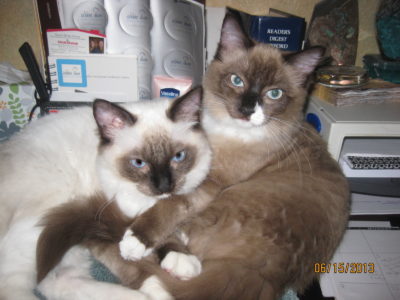 I just wanted to drop you a line and let you know how much we how much we adore having Khan and Khaki in our lives.  They are every bit as affectionate and loving as you said, and they are smart!! They are terrific company for us, and for each other.  I am so glad you suggested getting two instead of just one cat!  They do everything together (even going to the litter box). They get along really well with our German Shepherd; Khan even curls up and sleeps with him on occasion.
We love our cats! Even a couple of my sons who were not previously cat fans want to get a ragdoll because they are so personable.
You can see theat they are really growing, and they are very healthy!
All best wishes!
Debbie